2024 Book Selection
The 2024 One Book One Province title is Miss G and Me by Jennifer S. Wallace. The program will see libraries, book clubs, and individuals all across Saskatchewan join together in April 2024 to read this book and share discussions about the story.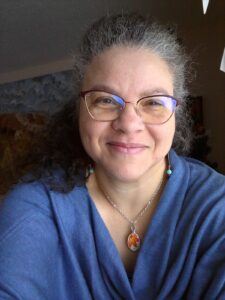 JENNIFER S. WALLACE is a French immersion teacher, judo sensei, writer, artist, and author. She loves teaching, singing, painting, reading, travelling, and buying too many children's books. In 2009, Jennifer wrote and published her first book, a nonfiction children's story called When He Opened His Eyes: Gordon's Story, about her firstborn. She writes articles and poems for Sister Triangle, an online women's magazine and has led writing workshops and writers' events. In 2020, the non-published manuscript of Miss G and Me: A Daughter's Memoir was awarded third place in the Saskatchewan Writers' Guild's John V. Hicks Long Manuscript Award for Creative Nonfiction. Jennifer was born and raised in Saskatoon, Saskatchewan, Treaty 6 Territory, and lives there with the loves of her life: John, Imogen, Isaac, and their two dogs.
Our 2024 Events
SLA will be holding a program launch event at Government House in Regina in March 2024 with Jennifer S. Wallace. There will also be six in-person events featuring Jennifer S. Wallace held across Saskatchewan throughout the month of April.
Exact event locations and dates have not yet been announced, so check back often for updates!
About the Book and Where to Find It
Weaving together poems, journal entries, anecdotes, and personal essays, the award-winning Miss G and Me shares a daughter's insights into her Jamaican mother's immigration story and familial relationships.
The book invites readers and listeners to experience Jamaican, English and prairie Canadian voices, cultures, landscapes, and mindsets. Whether online or in person, audiences have been receptive to the many themes that Miss G and Me explores.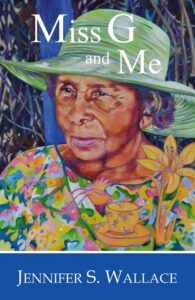 Find the book in your region:
About One Book One Province
One Book One Province is a province-wide program that launched in 2017. It aims to increase literacy and create a reading culture by providing opportunities for residents to become more socially engaged in their community through a shared story. One Book One Province encourages Saskatchewan's social, economic and cultural development while supporting libraries and collaboration.
While One Book One Province has run during the month of March in past years, in 2024 the program will run throughout the month of April.
For more information about One Book One Province, contact SLA Program Coordinator Milena Džordeski by emailing dzordeski@saskla.ca.
His Honour the Honourable Russ Mirasty, Lieutenant Governor of Saskatchewan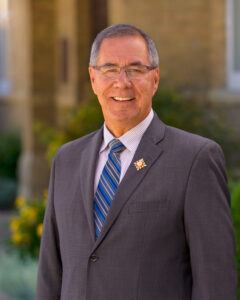 Russ Mirasty was born and raised in La Ronge, Saskatchewan and is a member of the Lac La Ronge Indian Band. His first language is Woodland Cree. His grandparents led a traditional life, fishing, hunting and trapping. His mother modelled a strong work ethic, and from her and his grandparents, he learned to value a connection to the land, and the importance of hospitality and community service.
Mr. Mirasty joined the Royal Canadian Mounted Police (RCMP) in 1976, and was one of only two Indigenous cadets in his troop. He served in various roles across the country, including as Director General of National Aboriginal Policing Services and as Commanding Officer of "F" Division (Saskatchewan).
Over his 36‐year career, Mr. Mirasty was posted to seven provinces, performed duties in every province and territory, and participated in an exchange with the Northern Territory Police Service in Australia. He retired from the RCMP as Assistant Commissioner in 2013.
Following his retirement, Mr. Mirasty continued to devote himself to the residents of Saskatchewan by helping lead the Student First Engagement process. The valuable perspectives shared during the process informed the development of a province‐wide education strategy.
Mr. Mirasty served as a member of the League of Educational Administrators, Directors and Superintendents, and as a board member on the Community Safety Knowledge Alliance. He was appointed to Saskatchewan's Advisory Group on Poverty Reduction, and served on the board of the McDowell Foundation, which supports research, inquiry, and sharing of information for the K to 12 education system.
In recognition of his outstanding contributions, Mr. Mirasty received both the Queen's Golden Jubilee and Diamond Jubilee Medals, as well as the Meritorious Service Medal.
His Honour leads a very active lifestyle and regularly participates in running and cross‐country skiing marathon events. He and his wife, Donna Mirasty, have a home in La Ronge, and they have two children and two grandchildren.
2023 – Five Little Indians by Michelle Good
2022 – Arab Cooking on a Prairie Homestead by Habeeb Salloum
2021 – Blanket Toss Under Midnight Sun by Paul Seesequasis
2020 – A Geography of Blood by Canada Savage
2019 – Just Pretending by Lisa Bird-Wilson
2018 – Out of Old Saskatchewan Kitchens by Amy Jo Ehman
2017 – The Education of Augie Merasty: A Residential School Memoir by Joseph Auguste Merasty with David Carpenter