Book Spine Poetry Contest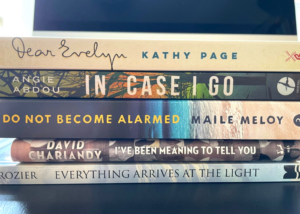 Each fall, the Saskatchewan Library Association (SLA) hosts the Book Spine Poetry Contest overlapping with Culture Days. What is book spine poetry? Book spine poetry is a free verse poem composed using the titles written on the spines of physical books, and then stacking the books on top of one another.
The 2023 Book Spine Poetry Contest will run from September 23 – November 1, 2023! The contest features four age categories: children (ages 5 to 8), children (ages 9 to 12), teens (ages 13 to 18), and adults (ages 19 and up). The winner in each age category will receive a $100 Indigo gift card. The second place winner in each category will receive a $50 gift card, and third place a $25 gift card.
You will be able to submit your entry through this page once the contest opens on Sept. 23. Entries will not be accepted after the contest closes on Nov. 1, 2023. This contest is open to Saskatchewan residents only.
For more information on this program, please email Milena Džordeski at mdzordeski@saskla.ca.
Contest Promotion Resources
SLA has created several Book Spine Poetry Contest promotional resources: a poster in both English and French, instruction sheets in both English and French, and some social media post images. Any person or organization interested in promoting the Book Spine Poetry Contest is free to download, print, and/or distribute the below resources.
contest poster
contest instruction sheets
contest social media images
The 2022 Book Spine Poetry Contest winners were:
Ages 5-8 Category:
Liam Sjogren
Carl River
Olson Zion
Ages 9-11 Category:
Teagan Deschamp
Wilson Yarie
Amelia Hanstock
Ages 12-18 Category:
Jeremy Udechukwu
Arvil Buffalo-Brooks
Gemma Promhouse
Adult Category:
Kirby Anderson
Eri Svenson
Kiana Gallegos